Learn Where to Sell Furniture - How to Sell Furniture and Find Used Furniture Shops in Dallas
ConsignmentFurnitureDallas.com is a Great online resource loaded with information to help you Sell Used Furniture. Here you will find tips, articles and videos to help you prepare your furniture for sale. Including how to clean, repair, refresh or refurbish your old furniture to get it ready to sell and the best places to sell your furniture and get the most cash and fastest sale.
There are many ways to sell your old furniture in the Dallas Market. In the articles below you find information intended to help you determine the best method that works for you and how to utilize that source to get the highest cash return for your used furniture. The methods discussed in these articles include selling on Craigslist (Craigs List), ads in local Newspapers including Green Sheet or other classified advertising, online advertising such as Ebay, garage sales, estate sales and locating stores in the Dallas area that can Sell Used Furniture for you.
Sell Used Furniture – Selling Furniture in Dallas and Fort Worth – Best Way to Sell Old Furniture!
To find a Used Furniture Store near you just click on your city in the list below!
Articles about Selling Used Furniture
The following information is intended to help you learn the best way or ways to dispose of your unwanted furniture. It is our hope that we can help you find better ways to recycle your old furniture in ways that help the environment or by providing you a more profitable method of selling your furniture.

Best Ways to Sell Used Furniture
So your thinking about sell your old furniture! Maybe it's time for new furniture, you have furniture sitting in storage or you are moving? Here are a few ideas and tips about selling your furniture.
What's it worth? This is usually the largest question in everyone's mind when it comes to selling your furniture. Here you have to be honest with yourself and price if fairly! Is it outdated or have you simply grown tired of it? Maybe your forced to sell it due to a move or your downsizing. Either way you must be realistic and don't fall into the trap of attaching sentimental value to the furniture it is worth nothing to a potential buyer. A trip to the local consignment furniture store or used furniture store can give you some ideas of the value. Typically they price current style furniture at about half of new value or less. Casegoods or Wood Furniture is usually easier to sell than upholstered or fabric furniture. If you can get more than half of what a consignment store charges, selling on your own it might be worth the hassle.
Can you sell it with your house? In many cases the furniture you are looking to sell might be perfect for the house it is in! After all you thought so when you bought it! You might consider using it for a bargaining chip when negotiating the selling price of your home, rather than taking $10,000 less on your asking price see if the potential buyer has any interest in your furniture? If they do maybe instead of discounting your house $10K you could give them furniture that you might only get a couple of thousand for anyway saving you $8,000!

Deciding how to sell used furniture! -Here there are a number of options.

Garage Sales - Typically this is not the most appealing option because you usually get the real bottom feeders. However if you are part of a community that has community garage sales, this can be a very good option. Community garage sales attract hundreds of potential buyers for your furniture and you may find someone that is looking for just what you have!

Online or Classified Ads - You could place an ad in the local Greensheet Classifieds or online with Ebay or Craig's list. Online advertising has the advantage here because you can put up photos of the furniture to showcase the condition. These options give your furniture exposure to a great number of potential buyers. Unfortunately it also invites scams and people you many not want in your home!
Consider Selling by Consignment - Consignment Furniture Stores know the value of furniture based on past history selling similar items. They can display your furniture in ways that show off the best features of the furniture. They can handle the moving of the furniture show it to a large number of customers and they usually take credit cards. They may even have customers waiting for just what you are offering. Selling Furniture By Consignment is often a great choice!
Tips for Selling Furniture!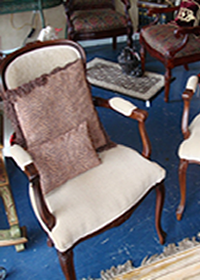 Things to consider when selling furniture -
1) Make your furniture appealing - If at all possible keep the furniture in your home when selling it. Putting it in the garage or an uncontrolled storage environment will typically harm and ultimately devalue the furniture.

2) Make certain your furniture is clean and presentable! For Upholstered Furniture, have it professionally cleaned the next time you get your carpets cleaned. For wood furniture make sure there are no marks or scratches, old English works wonders and scratch cover sticks do wonders. No one wants furniture that smells has pet hair or worse pet odors, scratches, broken parts etc.

3) Price it to sell! Used furniture shoppers watch the ads very closely. Over pricing your furniture hopping to get more or expecting that people negotiate anyway may turn away potential buyers that might otherwise look!   

Locate a Used Furniture Store in Dallas
Videos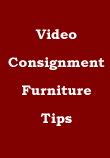 Video Tips

Watch this great video loaded with tips on how to Sell Used Furniture in Dallas. Just click the image to the right to watch!