Find Furniture on Consignment or Furniture by Consignment in the Dallas Ft. Worth Area
This site is filled with information about how to buy and sell used furniture. We also have articles and videos with handy how to tips for furniture repair and home decorating. We are constantly adding more articles as we find them, if you have a tip or article to share about furniture, interior design, refinishing or repair, used furniture shopping or something else related that you would like to share let us know!
We are the ultimate source to find consignment shops in the Dallas, TX market that offer quality Used Furniture - Home Decor - Estate Sales - Estate Jewelry - Consignment Jewelry and More. To find a store near you just click on your city in the list below!
Find Consignment Stores - Used Furniture Shops - Second Hand Furniture Stores!
To Find a Store Near You Click on Your City Below
Articles - Tips - Videos
Below are a number of articles, tips and video links. We hope you will find these informative and helpful in caring for your furniture and to aid you in finding and identifying quality products. There are additional articles through out our site that are intended to help you Buy Used Furniture or Sell Used Furniture.

Buying Quality Furniture on a Budget
Buying Quality Furniture on a Budget can be tricky today! Given the current economic conditions, many people are choosing to stay in their homes much longer than they had originally planned. Many have outgrown their homes or are staying in their current homes for financial reasons. With all the uncertainty in our economy and the rising costs of products, food, gas and other commodities today, how in the world can the average family afford to update their homes let alone Buy Quality Furniture while staying within their Budgets.
Besides the basic home improvements like painting, cleaning the carpet and changing some of the home decor, a great way to redecorate your home is to buy new furniture. To Buy New Furniture and Stay on Budget you need to shop smart. There are several ways to buy furniture cheap. One way - find used furniture at local consignment furniture stores, used furniture stores or antique dealers. Another way is looking through local classified ads both in print and on the Internet such as green sheets, Thrifty Nickel Ads or Craig's list. In addition, people sell their used furniture on all sorts of websites and businesses are also selling both new and used furniture via the Internet. These are all great ways to fine Quality Used Furniture Cheap.
The main key to buying used furniture is to ensure you are able to inspect the furniture in person. Buying from local consignment furniture stores is an excellent way to do this. Going to yard sales is fun, but buying from furniture consignment stores who know their stuff and know what used furniture is worth, saves you time and energy. You can shop by category often on retail store websites or just do a random search on auction sites or online classified ads to see what is available and let your imagination run wild.
Buying used furniture at a local consignment store is also fun...consignment furniture store inventory changes very quickly so what you don't see today may be there tomorrow.
If you must buy new furniture for your home one way to get some instant cash to help you pay for the new furniture purchase is to sell your used furniture through a consignment store that specializes in secondhand furniture. Consignment Furniture stores know the local market and may even have customers looking for the type of furniture you have. They will generally get you a fair price and sell it for you quickly. In today's economy getting cash for your unwanted furniture is a great way to help you Buy Quality New Furniture on a Budget!
Get Cash for your Old Furniture!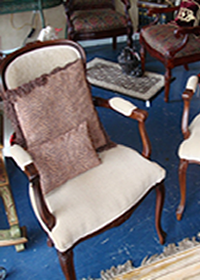 If you have a garage full of extra furniture from your recent home update, finding a local consignment furniture store might be a good solution for you. A local Furniture Consignment store can sell or buy high quality items, including chairs, tables, sofas, lighting, bedroom furniture, dining room furniture, chests, home decor and various home accents. (read more)
Shopping Tips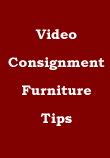 Things to know about Used Furniture

Need tips on buying second hand furniture? Watch this great video loaded with buying tips form a Consignment Furniture Pro. Just click the image to the right to watch!