Find Consignment Furniture Stores in Dallas
This page is filled with helpful Tips and Great Ideas on How to Sell Used Furniture and the things you should do to ensure that you get the most money and fastest sale possible. You will find informative articles, selling tips, where to advertise old furniture, furniture repair tips and more.
Selling used furniture can be a trying and even expensive process if you don't advertise it correctly or have your furniture ready to sell. You will find articles to help you Repair Furniture - Refinish Old Furniture - Clean Fabric Furniture - Price Used Furniture - Repurpose Furniture - Sell Furniture Safely and More.
Repair Furniture Tips - Sell Furniture Safely in Dallas and Fort Worth - Advertise Used Furniture!
To Find a Consignment Store Near You Click on Your City Below
Furniture Repair Articles
Below are a number of Articles relating to Furniture Repair. We hope you will find these informative and helpful in your quest to learn How to Sell Used Furniture in the Dallas Metro Area. There are additional articles through out our site that are intended to help you Repair Furniture or Refinish Old Furniture. In addiition there are articles with tips on Advertising Furniture, Furniture Restoration and more.

Buying Furniture in Todays Economy
So you want to sell your old furniture! Maybe you have down sized, are relocating or you are just ready for a change and bought new furniture. Now for the next task, how do I sell my old furniture?
Your first question to ask is what is my old furniture worth? Here you have to be honest with yourself, just because you paid $3000 for that furniture 20 years ago and it's still in great shape, does not mean you will get half that today. Styles change, fabric wears and fades, furniture gets scratched and nicked, maybe your kitty used it for a scratching post or worse. In other cases you may have gotten hand me down furniture from relative and may have a collectable antique value which we will cover later. For this part let's suppose your furniture is 5-10 years old and in decent condition. Is the furniture clean? If your answer is well there is a spot here or a scratch there but hey it's in good shape for its age you may as well forget about getting a good price for it. If the furniture is fabric and has a spot or stain then clean it! If you don't feel it is worth cleaning then it probably is not worth selling either. Is the fabric a current style? If it is neutral meaning earth tones and not pastels or a wild floral, then you probably will get more money for it if it is clean and presentable. When you clean it check under the cushions and in the seams under the cushions run a vacuum cleaner down inside the creases under the cushion (you know the long crevice tool you never use with your vacuum well use that). Assuming your furniture is a neutral fabric and it is clean and presentable you should be able to get a very fair price for the furniture a trip to the local furniture consignment store might be a good idea too for price comparison. Keep in mind they have loyal customers that trust them and usually take credit cards or layaway and you are dealing with a cash customer so you must be far less expensive.
Case goods (wood furniture) is typically an easier sale assuming again it is current (not bleached white, knotty pine or some other 70's look) and in good condition. If it has rings from where you put your glass or scratches where you drug dishes across the top then you need to get it read to sell. You can use scratch cover and in some cases may opt to have the furniture refinished completely, depending on the value of the item. Some Dining Tables frequently get heat spots (a white haze in the finish where you put hot dishes on the wood) there is a quick fix for this and well worth the time to fix it! If you have a heat spot get your steam iron out and put it on the steam heat setting, next find an old tee shirt or terry towel. Put the towel or tee shirt over the spot and iron it with steam, the spot will magically disappear, do this for each spot or area and when done use some furniture polish to finish it up!

Second question to ask is it collectable or antique? You should do some online research or visit your local antique store for help in this area, you will find websites devoted to antiques and store owners that will help you determine the value.
Deciding how to sell used furniture! -Here there are a number of options.

Garage Sales - Typically this is not the most appealing option because you usually get the real bottom feeders. However if you are part of a community that has community garage sales, this can be a very good option. Community garage sales attract hundreds of potential buyers for your furniture and you may find someone that is looking for just what you have!

Online or Classified Ads - You could place an ad in the local Greensheet Classifieds or online with Ebay or Craig's list. Online advertising has the advantage here because you can put up photos of the furniture to showcase the condition. These options give your furniture exposure to a great number of potential buyers. Unfortunately it also invites scams and people you many not want in your home!
Consider Selling by Consignment - Consignment Furniture Stores know the value of furniture based on past history selling similar items. They can display your furniture in ways that show off the best features of the furniture. They can handle the moving of the furniture show it to a large number of customers and they usually take credit cards. They may even have customers waiting for just what you are offering. Selling Furniture By Consignment is often a great choice!
Tips for Getting the most for Used Furniture!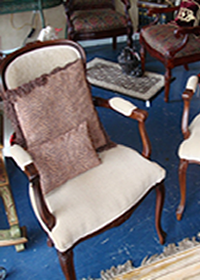 Tips for selling used furniture -
1) Make your furniture appealing - If at all possible keep the furniture in your home when selling it, putting it in the garage or an uncontrolled storage environment will typically harm the furniture and ultimately devalue the furniture.

2) Make sure your furniture is clean and presentable! For Upholstered Furniture, have it professionally cleaned next time you get your carpets cleaned. For wood furniture make sure there are no marks or scratches, old English works wonders and scratch cover sticks do wonders. No one wants furniture that smells, has pet hair or worse pet odors, scratches, broken parts etc.

3) Price it to sell! Used furniture shoppers watch the ads very closely. Over pricing your furniture hopping to get more or expecting that people negotiate anyway may turn away potential buyers that might otherwise look!   

Locate a Dallas Furniture Consignment Store
Consignment Furniture Tips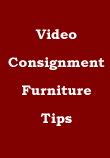 Tips to know when you Sell Used Furniture.

Need tips on selling used furniture? Watch this great video loaded with tips on How to Sell Used Furniture. Just click the image to the right to watch!